Precious metals refining:
looking for the highest purity.
The metals that we refine
Refining implies selecting one specific metal and isolating it, so as to obtain a certain degree of purity in the final output. We recover and refine gold, silver, cooper and platinum group metals such as palladium, platinum and rhodium. We own a robust and dynamic process plant that can satisfy the customers' demands. In order to meet these demands, we decided to design tailor-made manufacture plants.
Highest purity and volumes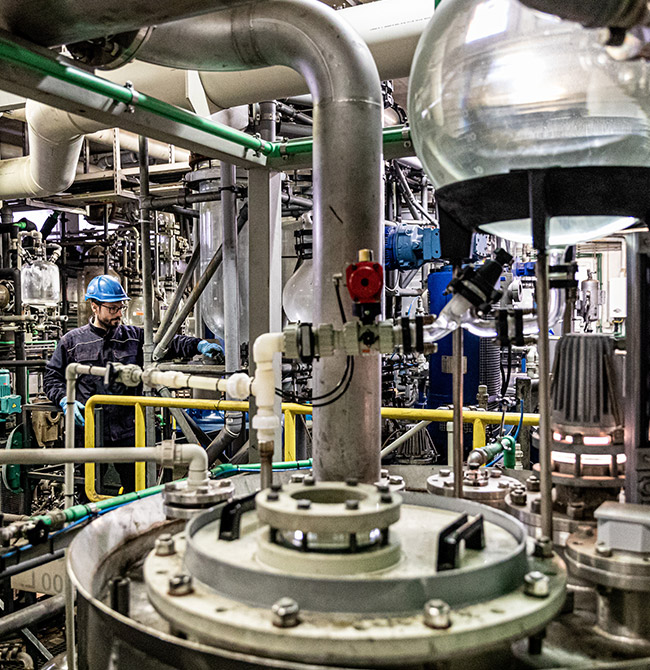 | Metal | Purity |
| --- | --- |
| Au | 99.99% e 99.95% |
| Ag | 99.95% e 99.90% |
| Pd | 99.95% |
| Pt | 99.95% |
| Rh | 99.95% |
The metals we distribute can, moreover, be produced meeting specific requests: for instance, our clients could have specific maximum levels of contaminants that they need to comply with. We can adjust the final product, so as to meet all requests.
Analyses play a fundamental role in the precious metals refining process. Although the material undergoing this step is already well known thanks to several analyses and control stations that were carried out during previous processes, it is always useful to double check its composition.
The purpose, in this case, is confirming and backing the methodological choices that were taken and supporting technicians during observation both during the process and once it's over, i.e., when the precious metal has been selectively parted.
In order to part each metal, we implement processing cycles that are carried out through treatments with specific substances that are chosen depending on the objective. Processing is determined on the basis of the format of the input material (powder, grain, alloy) and its quantity.
We own different kinds of reactors: more traditional ones such as plating barrels, and others such as rotary drum reactors or enameled, jacked reactors. Besides these basic plants, we also own specific tools for silver and copper, which undergo electrorefining.
As a matter of fact, we refine silver and copper by applying electrochemical processes (galvanic process), while for all other metals, we employ hydrometallurgical treatments that don't require organic extraction solvents.
Precious metals refining plants are isolated, so as to prevent contamination between the flows. A control system is guaranteed by the constant presence of technicians during the process, monitoring its performance and quality.